Protect your property from the possibility of any further damage. If necessary contact a contractor to complete temporary repairs.
If a tree or limbs are on the house, make arrangements to have the tree removed.
Complete temporary repairs such as boarding up broken windows or covering up holes in the roof with a tarp to protect your home from further damage.
Check for gas leaks. If you smell gas, leave immediately and call the utility company from a neighbor's house.
Take pictures of the damage before repairs are made
DON'T
Don't touch downed power lines, assume they are live no matter how long they have been down.
Don't try to move large trees or branches that have fallen on your home yourself. You could hurt yourself and possibly increase the damages.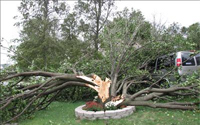 Attempt to stop the source of water leak immediately.
If necessary, contact a plumber or other professional to stop the flow of water.
Remove as much excess water as possible by mopping and blotting.
Move property out of harms way (move furniture to a different room if possible).
Contact a professional restoration company.
Complete emergency repairs only.
Keep all receipts from any emergency repairs.
Save and set aside any damaged contents items. Compile an itemized inventory list of personal property damaged. Include manufacturer, brand name & purchase information if available.
If possible, take pictures of the damage.
If a pipe is broken or valve is leaking, shut off the water supply.
Clear drains if possible
Protect furniture; wipe furniture dry; lift draperies off carpet, loop through a coat hanger & place the hanger on the drapery rod; prop up wet furniture cushions for even drying, place small wooden blocks, plastic or aluminum foil under furniture legs; remove wet area rugs or other floor coverings; move photos, paintings and art objects to a safe, dry location; remove wet fabrics and dry them as soon as possible. Hang furs and leather goods to dry separately at room temperature. Remove damp books from shelves & spread out to dry.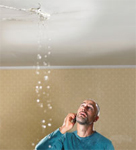 DON'T
Leave wet fabrics in place; dry as soon as possible; hang furs and leather goods to dry separately at room temperature.
Leave books, magazines or other colored items on wet carpets or floors.
Use your personal vacuum to remove water.
Complete repairs in full (just complete emergency repairs).
Discard any items until instructed to do so by the claim adjuster.
Use electrical appliances while standing on wet carpet or wet floors.
Go into rooms with standing water if electricity is still on.
Use ceiling fixtures if the floor above the ceiling is wet.
If you had to evacuate, return to your home only after authorities advise it is safe to do so.
Make the necessary short term arrangements for the next couple of days.
Do not tamper with evidence located around the source of the fire. This may need to be analyzed by the insurance company and/or a fire investigator.
Check for hazards such as electrical shorts or gas or water leaks. Turn off any damaged utilities, and arrange for the electric or gas company to test, repair, and turn utilities back on.
Check the roof and attic for smoke, sparks, and embers.
Throw away any items such as food or medicines that have been contaminated by smoke or fire. Document and take pictures of these items before disposal.
Blow off or brush-vacuum loose soot particles from upholstery, drapes and carpets.
Discard open food packages as it could be contaminated. Discard canned goods that were exposed to heat. Take pictures of discarded items.
If electrical service is off, clean out freezer and refrigerator. Leave the doors propped open or place charcoal in the unit. Keep children away!
Sort clothing with smoke damage into clean quickly, clean eventually and don't wear anymore piles.
Clean Formica and chrome fixtures to prevent permanent tarnishing. Apply a light coating of Vaseline or oil to chrome trim.
Wipe residue from porcelain bath fixtures to prevent etching.
Wipe leaves of houseplants to remove smoke residue.
Cover carpeted traffic areas with towels or old linens to prevent additional soiling.
Change air filter on furnace if it uses forced hot air
Tape cheese cloth over intake/outlet air registers to capture any loose soot in the air. If possible dampen cheese cloth first.
If outside temperature is above 60 degrees, air out the house to reduce smoke odor.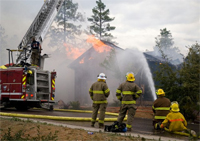 DON'T
Attempt to wash papered of flat painted surfaces.
Attempt to clean carpets or upholstered furniture.
Use electrical appliances that were close to fire or water before checking them out.
Eat food that has been exposed to fire or smoke.
Vandalism/Theft
Report incident to local authorities.
If necessary make temporary repairs to secure the property.
Contact cleaning professional if necessary
Prepare a list of stolen items and approximate values. Secure original receipts, owners manuals or any other material that will help verify the existence and ownership of the item.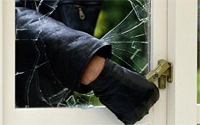 Automobile Accidents
First of all, stay calm! Nothing is gained by arguments. Contact police and report if possible. Ask the officer where you can get a copy of the police report which you may need when you submit your claim to the insurance company.
Do not discuss fault or details of the loss with anyone other than the police or your insurance agent. The claims adjuster will deal directly with the claimant or his/her attorney. Do not deal with the claimant yourself.
If injuries are suspected, seek treatment or call an ambulance. Do not render first aid unless you are qualified. Don't move the injured person since this could aggravate the injuries.
Obtain information about other people involved in the accident or anyone who may have witnessed the accident. Obtain name, address, phone number, insurance carrier, policy number.
Take photos of the accident site, if possible.
Have vehicle towed to a repair facility if it cannot be driven.
You may obtain an estimate but do not start repairs until after speaking with the adjuster.
Often, the appraiser will agree upon price with the repair shop. The shop will often receive a copy of the appraisal done and will work off of that. If additional damage is found, the repair shop should contact the appraiser to discuss.
Your policy may or may not include rental, contact your insurance agent for verification of coverage.
Expect to be contacted by the claims adjuster within two working days. Please call Fred E. Thomas Agency if you have not been contacted within that timeframe.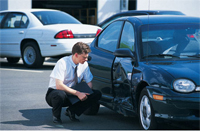 Liability Claims
Document every occurrence as completely as possible (name, address, phone number, age, clothing or shoes worn at time, how it occurred, witness names, addresses and phone numbers).
If possible, take pictures right away.
Provide medical assistance if necessary.
Advise your agent promptly of all occurrences
If a Summons and/or Complaint is received, write down the date you received it and how you received it (mail or in person). If received via mail, save the envelope. Promptly call your agent and forward to us. If possible, email or fax us a copy prior to mailing.
Any paperwork you receive that you have no knowledge of or question same, please contact your agent.
NEVER WAIT UNTIL YOU ARE SURE A CLAIM IS BEING MADE PRIOR TO NOTIFYING YOUR AGENT. TIMELINESS IS ESSENTIAL TO THE INVESTIGATION AND COVERAGE.